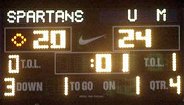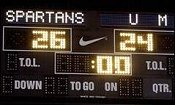 MSU 26, Michigan 24
East Lansing · November 3, 2001

Transcript of UM Football Radio Network
with announcers whiners Frank Beckmann, Jim Brandstatter, and Steve Courtney
---
Frank Beckmann... "Well, here we go. Fourth and 16. Ziehl Kavanaght will split off to the left. Smoker will be in the gun with Duckett. You've got Chris Baker the tight end, Rogers and Haygood to the right and Michigan will drop eight men into coverage. Smoker to throw, with time, going down the middle and this one will be tipped and incomplete! And Michigan will escape East Lansing with a victory over the Spartans as their defense comes up big at crunch time with 1:18 to go!"
Jim Brandstatter... "Well, what do we have now, a flag?"
Beckmann... "The flag down at the Michigan 42."
Brandstatter... "Well, Smoker doesn't look happy and he's been standing next to the officiating crew."
Beckmann... "Well, let's wait for the call here from..."
Brandstatter... "Personal Foul."
Beckmann... "...referee Jim Lapetina. It's against Michigan."
Brandstatter... "What? What?!!"

Referee... "Personal Foul. Hands to the face, on the defense. It's a 15-yard penalty."
Beckmann... "Well, you look at it on the replay and it happened. Jeremy Leseur had his hands up in Charles Rogers' face. He was shoving his facemask. And the Spartans are still alive!"
Brandstatter... "Oh, they sure are!"
Beckmann... "They're at the 35 with a first down and 1:18 to go."
Brandstatter... "Do you believe this turnaround?"
Beckmann... "Wow! And now Duckett's a factor again."
---
Beckmann... "And now, with a 24-20 Michigan lead we get a flag thrown. And I'm not sure what the flag is for."
Brandstatter... "Aw, he can't do that because Michigan may have... Michigan has maybe, it's put a player into the game after the play was over. He can't throw that flag!"
Beckmann... "Well, that's not his call, the official on the sideline. It's the back judge who counts players, Jim."
Brandstatter... "Well, Larry Foote is absolutely livid."
Beckmann... "One, two, three, four, five. Six, seven, eight, nine, ten, eleven."
Brandstatter... "They've got 11 guys out there."
Beckmann... "I count 11."
Brandstatter... "There are not 12 guys on the field."
Beckmann... "Well, the back judge counts the players, not the line judge. And now the referee Jim Lapetina is trying to sort it all out."
Brandstatter... "Well, think about this, how much of a break this is for Michigan State?"
Beckmann... "Right."
Brandstatter... "They get to sit around and..."

Referee... "We have an illegal participation on the previous play. They had 12 men on the field. That will be half the distance to the goal line."

Brandstatter... "They didn't!"
Beckmann... "That's horrible!"
Brandstatter... "They didn't!"
Beckmann... "Well..."
Brandstatter... "They didn't have that many guys in there!"
---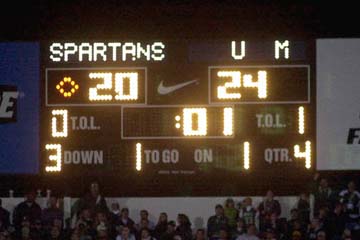 Beckmann... "And Smoker's gonna roll to his right, he can run. Foote's after him, he missed him. Smoker down to the one. He's to the one, the clock is running. Seven seconds. Six. Five. Four. Three. Two. One. Smoker spikes the ball, and the clock had stopped! The clock had stopped at one! They stopped the clock, Jim! They stopped the clock when they shouldn't have! Jim, that clock should have run out. That's unbelievable."
Brandstatter... "Is this home cookin', or what?"
Beckmann... "Larry Bielat, the ex-coach at MSU and the color commentator from radio just put his hands up with that sheepish grin. That's unbelievable! That's criminal!"
---
Brandstatter... "Watch out, Haygood! Watch out! Okay, they're over there."
Beckmann... "Okay, in the shotgun, Smoker from the two, he's going to snap the ball..."
Brandstatter... "Oh, look at Larry Stevens!"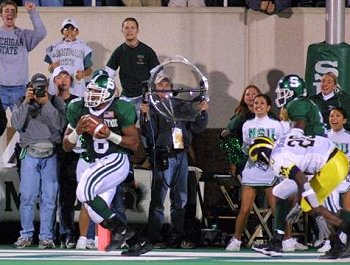 Beckmann... "Larry Stevens being held, the pass into the end-zone caught for a touchdown by Duckett! Unbelievable! Thievery."
Beckmann... "Jim, this game was stolen from the Michigan Wolverines. The clock should have run out when Smoker spiked the ball. He had no time left. They stopped the clock with a second to go before he threw it. Larry Stevens was nearly undressed on the pass rush on the final play. And Smoker heaved it up into the end-zone where Duckett caught it for the game-winning touchdown. Unbelievable. Michigan State wins. It'll go in the books as a Spartan victory. And it's a shame that such a great football game had to be finished with what will be some bitter feelings on the side of the maize and blue. I've done Michigan football for 21 years. And I can tell you my friends, I've never ever, ever, seen a team robbed in a football game like this one was today. But the Spartans get the victory, 26-24. There have been a lot of controversial ones, in this series. Last year in Ann Arbor there was the controversial fumble by Duckett. In the past there was the controversial two-point conversion try by Michigan. And this one, unreal."
---
Steve Courtney (trying to interview Jeff Smoker on the field)... "Hey Jeff, congratulations to you... Well he's in a celebratory mood. Jeff? Nah, he's waving the flag now."
Beckmann... "Waving that Spartan flag."
Courtney... "As you can imagine Frank, just mayhem down here at field level. A couple of altercations breaking out. But a huge victory for Michigan State."
Beckmann... "Well, a huge gift for Michigan State."
Courtney... "There's no question about it."
Beckmann... "And they played hard, and they deserved this win in a lot of ways. And so do the Wolverines, in a lot of ways. But it's the Spartans who get the victory. Give 'em credit, it's gonna go into the books. And we can talk about it all we want. But in the end, give the Spartans credit for pulling it out. And the team again that won the running battle won the ballgame. All the controversy will be discussed for another 365 days until they meet again."
---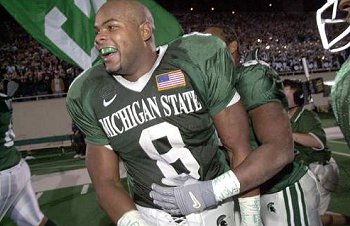 Beckmann... "Frank Beckman back with you at Spartan Stadium where the celebration continues. Michigan State capping off a 44-yard, 13-play drive in the final 2:09 with a game ending touchdown pass from Jeff Smoker to T.J. Duckett on a scramble with pandemonium breaking loose. All kinds of controversy over this last drive. Michigan was, uh, tagged with two penalties, one very legit. On a 4th and 16 incompletion against Jeremy LeSeur for grabbing the facemask and, and shoving Charles Rogers. The second penalty for too many men on the field, we're still not sure whether Michigan had 11 or 12 on the field. We can't tell you for sure. We do know that at the end when Jeff Smoker tried to run the ball in from the 4, he was tackled, and as he lined up to try to get a snap off as the clock was running down, he threw the ball in the turf with one second left. And that second stayed on the board for an eternity. They did not let the clock keep running at 1 second. They just stopped the clock at 1 second. And gave Michigan State one more play. And then on the winning touchdown pass, Larry Stevens out in the open was nearly undressed of his jersey but there was no call by the vigilant officiating crew that we have today. And let's identify them for you once again. Let's give them credit for their job: Jim Lapatina, Jim Crawdstad, Brent Durbin, Steve Beckman (no relation), Denny Swoind, Michael Banks, and John Langan. That was your officiating crew today that made all the calls in this one. The Spartans with 3 penalties for 30 yards, the Wolverines 6 for 61 including the critical ones we've just outlined. And, uh, not watching the clock at the end when it appeared time had run out on Jeff Smoker's throw into the ground after his scramble. Unreal finish. And Smoker wins it on the pass to T.J. Duckett on the last play of the ball game. Well, a couple of quick notes on this one. First of all, give Michigan State credit, they played a tremendous football game today. Both teams did.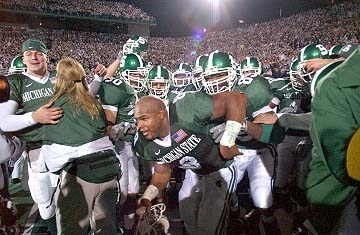 T.J. Duckett was a man. 211 yards, 27 carries. Second best day ever against a Michigan team. Michigan's defense with a dozen sacks in the ball game. Michigan's John Navarre 14 of 27, 195 yards. 3 touchdown passes. Marquise Walker 9 catches 150 yards. And all of that, all of that effort and a season, really goes down the tubes in controversy at the end. I'm going to say this one final time, and leave it alone, OK? Because there's no more crying over spilled milk after this one. But the Big Ten this year is not going to have a contender in the national championship picture. And the reason they're not going to have one is because of the job that was done here by men in striped shirts today. Dave Perry, the head of Big Ten officials was here. He'll look at the tape, and make his decisions about what was right and what was wrong and no doubt give an apology phone call to Lloyd Carr. But that won't do Michigan any good in the big picture because it'll knock Michigan out of the big title chase for the national championship. And it's a game that, well, they very well could have won. They've got themselves to blame in a lot of ways, and they've got Michigan State's talent too to account for it a lot of ways, too. But you'll hear plenty of teeth gnashing over this one for a long time to come. Michigan State on the last play of the game pulls it out 26 to 24... We'll hear from Lloyd Carr in the locker room, and that should be very interesting. Right now, we'll tell you our final again... State 26, Michigan 24."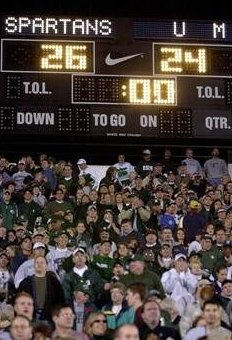 Footnote: As a result of today's game, the Big Ten Conference changed how the scoreboard clock is managed. No longer is it operated by an employee of the host school sitting in the pressbox. Now a Big Ten representative standing on the field starts and stops the clock.
Home page