MORONS License Plate:
Fact or Fiction?
The "photo" above is currently circulating through email... mostly among Spartan and Buckeye fans. But the "photo" is doctored... the license plate on the front is fake, as is the story that accompanies the photo. So let's separate fact from fiction...
FICTION - The photo of the steel blue Mini Cooper with the (M)ORONS plate in front is done very well, but is a fake. I know, because I created that particular piece of artwork. I had to convert pieces of real letters and numbers (from a sample once shown on the Department of State website) to form letters that I didn't have. The result was a nice, though fabricated, plate. Look closely at the R and the N... they look good, but they're merely bits and pieces of other letters/numbers. Even the S is slightly distorted. Compare them to the REAL plates shown below. Someone took my fabricated artwork and skillfully plugged it into the Mini Cooper picture. I was proud of my handiwork, but never expected it to make the internet circuit.

FACT #1 - The (M)ORONS plate really does exist, and is owned by Spartan Plates member Patrick Maguire. There is also a (M)ORONZ plate. I own that one. Here are the REAL plates...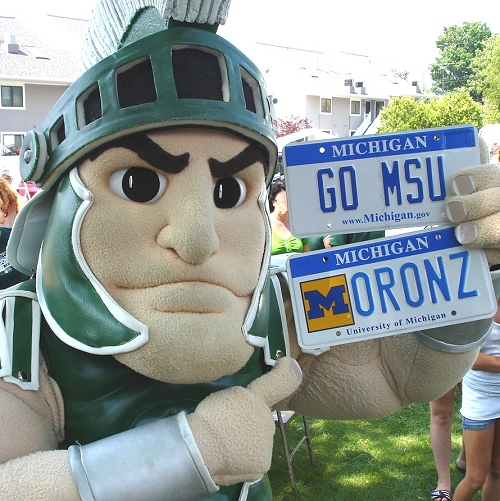 Sparty loves these plates!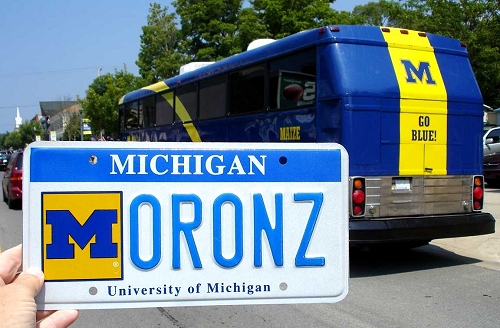 This bus needs THIS plate! (Bus seen in Pentwater, MI, in August 2009.)
FACT #2 - Someone in California will make you a plastic plate for the front of your vehicle that looks just like the fake one above. I've seen it... and from a distance, it looks terrific! But on closer inspection, you realize it is heavy plastic, not embossed aluminum. I will try to get the name of this person who makes it, and post the contact information here.
The first time I even thought about ordering such plate was when Spartan Plates member Sandy Beall suggested it a full YEAR before the university plates were available from the Department of State. I only wish I had acted on the idea before Patrick did... ha ha. With (M)ORONS already taken, I went for the phonetic alternative.

Here's the story that goes along with the Mini Cooper picture (it's an equally good story, but equally fake)...
A recent graduate of Ohio State moved to Dearborn, Michigan after accepting a great job. After becoming a citizen of Michigan she felt almost as if she betrayed her Ohioan background and ancestry. She had an apartment with a Michigan address and she winced whenever she looked at her Michigan driver's license. When she registered her vehicle she had an idea. When her personalized license plate arrived for her car she beamed while she affixed them to her car. She was so proud she sent an instant message to her father right away. He was a proud Ohio State alumnus as well. She typed, "Daddy I get my new personalized plates for my Mini today. They are University of Michigan plates!" "WHAT?" he replied, "You have to be joking!" "Nope, I'm totally serious. Let me send you a picture." Her father couldn't stop laughing after he viewed the picture of her car.
The following is from Patrick Maguire, owner of the real (M)ORONS plate...
I have found this to be pretty funny! Ever since getting my (M)ORONS plate, I have received lots of emails with similar stories about the plate's origin, background, and owner. I have yet to see one that contains a photo of the plate on MY car! I also have yet to see one with the TRUE story of my (S)CREWM plate which was later taken away from me by the Secretary of State. Oh well, the stories I have seen are probably funnier than reality.
By the way, another "urban legend" currently making the email circuits is an MSU Block-S plate that has "HTHDS" to form the message "Shit Heads." Sorry to burst your bubble, but this plate does not exist. Perhaps someone has clearly modified some artwork (as I did for the Mini Copper plate above), but the plate itself does not exist. That combination has been banned by the Michigan Department of State computer.

Patrick and I are going to be meeting soon to get a picture taken with both our license plates. We'll post the picture here.

... Bob Nelson
---
Spartan Plates | Email