My 1966 Beetle
1,080,165 Volkswagen Beetles made in 1966 production year
1966 was the only year in which the "1300" engine was offered
Maximum output: 50hp at 4600 RPM
Maximum and cruising speed: Officially 74mph, but my most comfortable speed is about 40mph
Acceleration: 0-60mph in 23 seconds (no whiplash in this car!)
Fuel efficiency: 28½ miles per gallon
Fuel tank: 10.6 US gallons
Oil capacity: 5.3 US pints
Battery: 6 volt (my car was later changed to a 12-volt system)
Wheel base: 94½ inches
Tires: 5.6 x 15 tubeless
Turning circle: 36 feet
Curb weight: 1,672 lbs
My car's color is "Mint Green" which was not a 1966 color option, but sure looks great
When I bought my car (Oct 2016), the odometer was 1,513 miles--- re-set when the engine was completely rebuilt.
1966 price tag: $1,585

Changes I've made since buying my car in October 2016, many of which could not have been accomplished without the excellent help of my buddy and ace mechanic Jerry.

Added an adhesive-backed 3½ convex mirror to the front of the 3½ outside mirror. (Convex mirrors have saved me many times. I do not mind sacrificing a little historical accuracy for a large amount of safety.)
Removed antenna and covered the two existing holes with the rubber gasket from the antenna assembly. (No radio, so why keep the antenna?) Used two nylon automotive inserts to secure the gasket.
After the left headlight burned out, replaced both headlights with Wagner halogen lamps. And since the headlight assemblies were already off the car and open, also replaced both turn indicator bulbs.
Removed both door panels, lubricated window assemblies; adjusted internal mechanism on passenger door to enable door to be opened from inside
Removed and serviced windshield wiper motor assembly so that both wipers now work
Discovered that windshield washer nozzle was not hooked up (and I will probably leave it that way)
---
Production Milestones
In 1934, Ferdinand Porsche was commissioned to build a small, inexpensive car. His masterpiece was a beetle-shaped sedan. He called it a Volkswagen (German for "people's car"). It is unfortunate that what would later become the world's top selling car was ever connected to one of the world's most evil men, Adolf Hitler.
The original Beetle ended production in July 2003, the last model rolling off an assembly line in Mexico. A "New Beetle" became available in 1998, and is still sold today. Unlike the original Beetle, the New Beetle's engine is in the front. That and dozens of other upgrades/improvements make it only a distant cousin to the original Beetle.
---
1933 - Dr. Ferdinand Porsche (1875-1951) draws first sketches of a simple little car that even the most common of citizens could own and enjoy.


---

1934 - Adolf Hitler commissions Porsche to develop the KdF-Wagen ("Kraft durch Freude" or "Strength through joy"), forerunner of what we know today as the Beetle.


---

1936 - At Berlin Auto Show, Hitler announces that Porsche will design "the People's Car." Porsche promises Hitler he will produce three prototypes by year's end.


---

1937 - First road test on prototypes


---

1938 - Thirty prototypes (called Series 30) completed


---

1939 - May 28: Ceremony commemorates laying of cornerstone of VW factory at Wolfsburg (would later become largest auto factory under one roof)


---

1940 - KdF-Wagen appears at Berlin Auto Show. Germany goes to war.

---

1942 - German army vehicles (Kubelwagens) built; German amphibious army vehicles (Schwimmwagens) built


---

1944 - Allied bombs destroy most of Wolfsburg factory


---

1945 - May: World War II ends. British forces take control of Wolfsburg area. Porsche interrogated by Allied Forces for his alleged connections to Nazis. Porsche is cleared, but then imprisoned in France with son Ferry for two years.


---

1946 - 1,785 cars constructed, mostly by hand; used as army light transport vehicles


---

1947 - Wolfsburg plant produces 19,000 cars; exported to Holland. Two hand-made convertibles constructed.


---

1948 - 20,000th Beetle produced. Beetle modified into convertible.
Henry Ford has opportunity to buy the Volkswagen company, but decides against it; 24 years later, the VW Beetle would out-sell the Ford Model T, becoming the world's top selling car, a title it never relinquished.


---

1949 - January 17: First Beetle bought in USA by Ben Pon. Max Hoffman becomes first importer.


---

1950 - 100,000th Beetle produced. 1,000 convertibles produced. Ferdinand Porsche celebrates 75th birthday; finally visits Wolfsburg plant; cries when he sees Beetles on the Autobahn--- his dream car has become reality!
It was sometime in the 1950s when people started calling it Käfer, German for "Beetle." (While many people today call it a "Bug," the official name of the VW model is a "Beetle.")

---

1951 - January 10: Ferdinand Porsche dies.

1952 - First official gathering of Beetle owners. Canada imports its first Beetle.

---

1953 - 500,000th Beetle produced. VW plant opens in Sao Paulo, Brasil.

---

1955 - April: VW of America formed. 1,000,000th Beetle produced.

---

1957 - 2,000,000th Beetle produced


---

1959 - 3,000,000th Beetle produced


---

1960 - 4,000,000th Beetle produced


---

1961 - 5,000,000th Beetle produced

---

1962 - VW of America headquarters at Englewood Cliffs, NJ, dedicated. 6,000,000th Beetle produced.


---

1963 - 7,000,000th Beetle produced


---

1964 - 8,000,000th and 9,000,000th Beetles produced


---

1965 - 10,000,000th Beetles produced


---

1966 - 11,000,000th and 12,000,000th Beetles produced

---

1967 - First year Beetles use a 12-volt battery (previous years were 6-volt)

---

1968 - First year Beetles have plastic dashboards (previous years were all-metal dashboards)

---

1970 - Super Beetle introduced. Last year convertible Beetle in standard format is available (only convertible Beetles in Super Beetle format are available).

---

1972 - February 12: 15,007,034th Beetle rolls off assembly line, breaks Ford Model T record for total production.


---

1974 - June: 11,916,519th Beetle produced at Wolfsburg rolls off assembly line, signaling the end of Beetle production at Wolfsburg plant.


---

1975 - Last year for Super Beetle production

---

1977 - Last year for standard Beetle in USA; only Super Beetle convertibles remain.

---

1978 - At Emden VW plant in Germany, last official German-built Beetle rolls off assembly line

---

1981 - 20,000,000th Beetle produced (in Puebla, Mexico)

---

1998 - Production model of New Beetle unveiled at Detroit International Auto Show


---

1999 - New Beetle turbo available to US dealerships

---

2003 - July 30: Last Beetle (21,529,464th) rolls off assembly line (in Puebla, Mexico)

---
JULY 30, 2003 - The last original VW Beetle rolls off the line at the last remaining production facility in the world: Puebla, Mexico--- some 65 years since its public launch in Nazi Germany, and an unprecedented 58-year production run since 1945. The last car was immediately shipped off to the company's museum in Wolfsburg, Germany. In true Mexican fashion, a mariachi band serenaded the last car.

The last Beetle:

Length: 13.32 ft (4 m)
Width: 5.08 ft (1.6 m)
Height: 4.92 ft (1.5 m)
Length between axles: 7.87 ft (2.4 m)
Weight: 1,786 pounds (810 kg)
Engine: 4 cylinders, 1.6 L

Transmission: Manual
Brakes: front disc, back drum
Passengers: Five
Tank: 10.57 gallons (40 L)
Color: Aquarius blue
---
Who Really Created the Beetle?
Depending on whose account you read, the idea behind the Volkswagen Beetle can be attributed to three different people--- Béla Barényi, Josef Ganz, or Ferdinand Porsche. Regardless of who actually came up with it, there is no doubting the role Nazi leader Adolf Hitler played in moving the little car from prototype to production.
Béla Barényi is credited by some as having conceived the basic design for the Volkswagen Beetle in 1925. Barényi was a Hungarian-Austrian engineer, regarded as the "father of passive safety in automobiles." He was born near Vienna, Austria in 1907. After mechanical and electrical engineering studies at the Vienna college, he was employed by Austria-Fiat, Steyr, and Adler (predecessor of Audi) automobile companies before joining Daimler-Benz in 1939. He is credited with developing the concept of the "crumple zone," the non-deformable passenger cell, the collapsible steering column, safer detachable hardtops, and more. After he died in 1997, Mercedes stated, "No one in the world has given more thought to car safety than this man."

Dutch journalist Paul Schilperoord reports in his book "The True Story of the Beetle" (in Dutch) that the Volkswagen Beetle was actually the brainchild of Jewish engineer Josef Ganz. According to Schilperoord, "In 1929, Josef Ganz started contacting German motorcycle manufacturers for collaboration to build a Volkswagen prototype. This resulted in a first prototype built at Ardie in 1930 and a second one completed at Adler [predecessor of Audi] in May 1931, which was nicknamed the Maikäfer ('May-Beetle')." Schilperoord says Ganz was a student and wanted to design an inexpensive car. "He often crashed with his motorbike--- What he really wanted was a car which was a lot safer, but just as affordable as a motorbike." Schilperoord says Ganz' first production model was called the Standard Superior. It appeared in Spring 1933 ("in May when the May beetles fly") at the Berlin Motor Show. Adolf Hitler, appointed German Chancellor in January 1933, opened the show and saw the Standard Superior. Hitler showed interest in the prototype. Such a car fit his plans to "motorize" Germany. Instead of ordering the Standard car factory to develop and produce the Jewish-designed car, Hitler looked for another German developer to take over. A sketch from the 1930s, allegedly made by Hitler himself, shows the outlines of a car resembling what we know today as the VW Beetle. The drawing is said to have been given to carmaker Daimler-Benz which apparently turned down the opportunity before it was given to Ferdinand Porsche. According to Schilperoord, Ganz later left Germany for Switzerland where he tried in vain to reclaim intellectual ownership of the Beetle. His name carefully erased from the history books by Hitler, Ganz moved to Australia in 1951 where he died in 1967. (Josef Ganz: True father of the VW Beetle)

It is also said that long before he seized power in 1933, Adolf Hitler envisioned an inexpensive car that the typical German family could own and enjoy. The car could be driven along the sweeping highways that he wanted to build throughout Germany. Once in power, Hitler assigned the task of designing the car to famed automaker Ferdinand Porsche who shared a similar vision for such a car. By 1938, designs were completed, and a factory site was selected in the town later to be known as Wolfsburg. Hitler announced the car's name: The KdF-Wagen ("Kraft durch Freude" or "Strength through joy"). The name never became widely used by the German public. It was more commonly called the "Volkswagen," or "people's car." As it turned out, no common German citizen ever owned a Volkswagen while the Nazis were in power. By the outbreak of war in 1939, only about 630 cars had been built, and nearly all of those went to Hitler and his military officers. (So much for "the people's car," eh?)
| | |
| --- | --- |
| | A sketch reportedly drawn by Adolf Hitler and given to famed automaker Ferdinand Porsche in 1934. |
| | |
| --- | --- |
| | A 1936 Nazi prototype of the KdF-Wagen ("Kraft durch Freude" or "Strength through joy"). |
| | |
| --- | --- |
| | Ferdinand Porsche shows to Nazi leader Adolf Hitler various features of the KdF-Wagen. |
---
1943 KdF-Wagen (KdF)
"Kraft durch Freude" or "Strength through joy"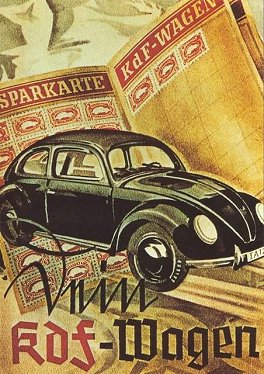 1943 KdF-Wagen (KdF), "Type 60" VW Beetle coupe
Chassis Number: 1-019477
This KdF-Wagen was offered for auctioned at The Elegance at Hershey (PA) on June 11, 2016. Estimated sale price: $275,000-$350,000. It did not sell.
The KdF-Wagen was the first example of what we know today as the Volkswagen Beetle. It was reportedly designed in 1937 by Erwin Komenda under the leadership of Professor Ferdinand Porsche who had received instructions from Adolf Hitler to create a "people's car." Komenda's aerodynamic styling included the split rear windows because curved glass was inordinately expensive. Stuttgart-based coachbuilder Reutter created the classic shape that would remain virtually unchanged until 1967. On May 26, 1938, Hitler laid the cornerstone of a new factory near Fallersleben, Lower Saxony, that would produce the "Kraft durch Freude" ("Strength through joy") or "KdF-Wagen." The adjoining new town would be known as "KdF-Stadt" (it was renamed Wolfsburg after WWII). Hitler also introduced a savings scheme where aspiring owners could collect stamps that would eventually pay for their car.
Production of the Porsche-designed car was to start in September 1939. A few Type 60 and Type 4WD 82e KdF-Wagens were built between 1939 and 1944, but production inevitably focused on military vehicles such as the Kubelwagen and Schwimmwagen. For most of the war, the KdF plant escaped heavy bombing because the new town was not on many allied maps. From 1944, the Wolfsburg factory manufactured the V1 flying bomb until US bombing raids destroyed the factory. KdFs between 1937 and 1944 totalled about 840 units. KdFs were allocated to low-profile top Nazi officials.
In 1945, the factory at Wolfsburg was located in the British occupation zone. It was placed under the control of British Army Major Ivan Hirst. There was no longer a need for military vehicles, so Hirst resuscitated the Volkswagen project and started filling an order from the British Army for 20,000 cars. The factory was later offered to major US car manufacturers but no interest was shown. Even Henry Ford turned it down in 1948. In 1949, Heinrich Nordhoff, a former senior manager with Opel, took over the project from Major Hirst. The little car would eventually become the top selling automobile of all time (21,529,464 units).
The Type 60 pictured above was delivered to the German Red Cross at Potzdam Babelsberg in Berlin on June 1, 1943. Representatives of The Red Cross, an ostensibly neutral international organization, visited and were posted at prisoner-of-war and Nazi concentration camps, which may account for the car's later discovery in Poland. The type 60 above was advertised for sale in a Polish provincial newspaper in 2000 and noticed by its current owner, Dr. Robert "Mac" Jones of Jackson, TN. He dispatched a connoisseur to view the car who discovered that it was indeed an authentic VW KdF. The car was purchased and taken to Germany, where it was delivered to Peter Schmalbach in Frankfurt-am-Mein, the leading expert on Wehrmacht vehicle restorations. After Schmalbach died, the car was sent to Christian Grundmann in Hessisch Oldendorf for further restoration work, using original KdF parts as appropriate, before dispatch to Hermann Schimkat for final inspection. Dr. Jones, who had rigorously researched this KdF to ensure the details were correct, received the completed car in Belgium, then drove it 250 miles to a major Volkswagen show where it was received with much enthusiasm and reviewed in many magazines. It was then shipped to Jones' home in Tennessee in December 2013, part of his collection until March 2016. It was then shipped to G&S Motors of Fletcher NC for cosmetic detailing and mechanical servicing, which included an engine-out service.
Note: These KdF photos and text (subsequently modified) appeared on The Elegance at Hershey website. Thank you.
---
Advertising
My favorite advertising campaign of all time was created by the Doyle Dane Bernbach (DDB) agency, beginning with "Think Small" in 1959. Advertising Age magazine called it "the best advertising campaign of the twentieth century... it changed the very nature of advertising, from the way it's created to what you see as a consumer today." My favorite TV ads: Funeral / Auto Show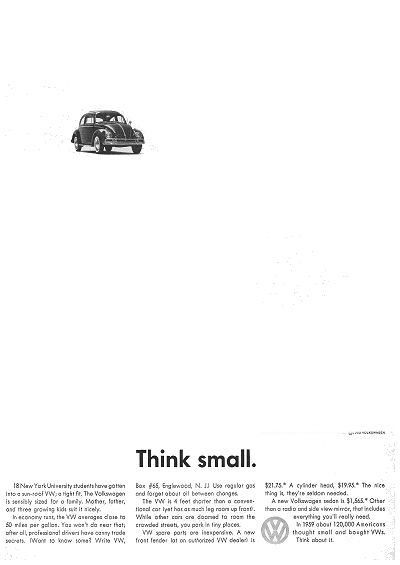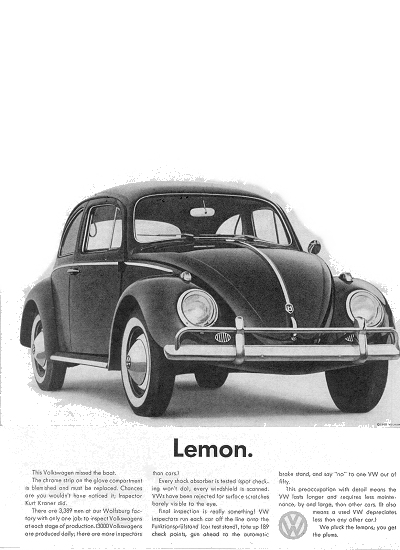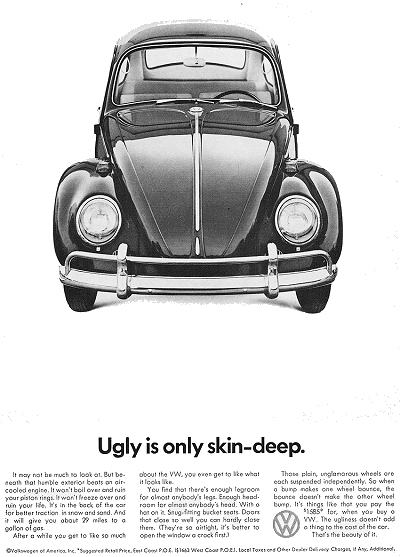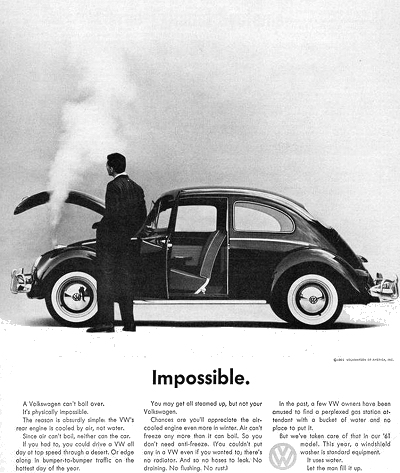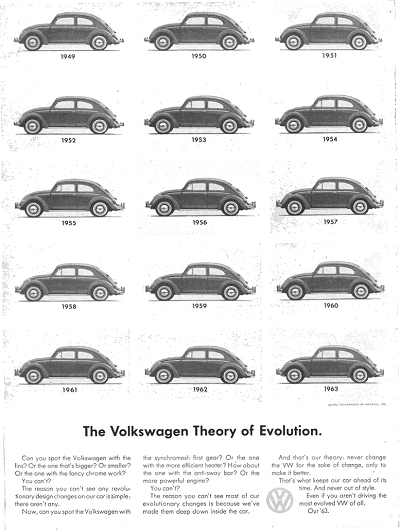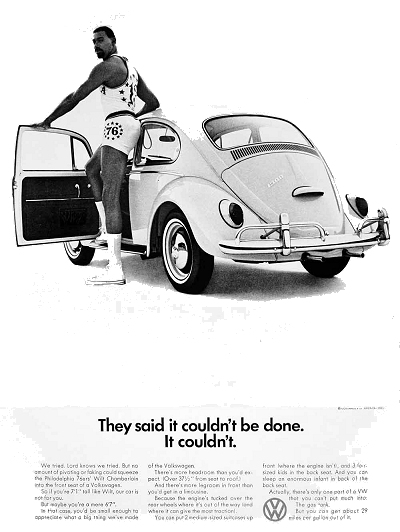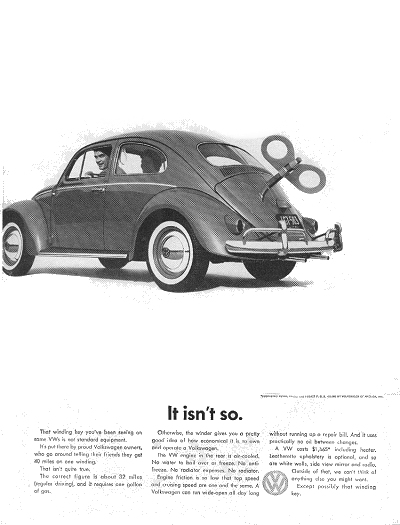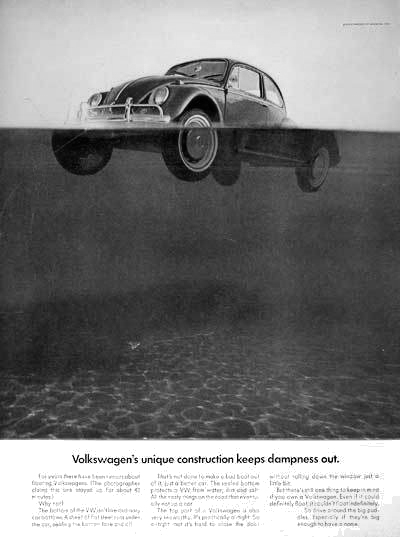 ---
Email
My thanks to those whose photos appear here, and to all whose writings helped build this summary of the Volkswagen Beetle. This web page is supported with private funds. It is intended for educational and entertainment purposes only. It is not associated with Volkswagen, Volkswagen Group, Volkswagen Aktiengesellschaft, or VW AG.