The first step in the manufacturing process is the receipt of raw materials from a private vendor (currently Jupiter Aluminum). Coils of 0.027"-thick aluminum sheeting are shipped to the license plate factory on wooden pallets. Each 5,000-foot long coil weighs 2,000 pounds and makes about 10,000 license plates.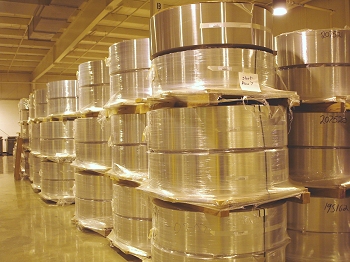 ---
An inmate uses an overhead hoist to load a coil into a "decoiler," allowing the coil to be gradually unwound as it starts through the process.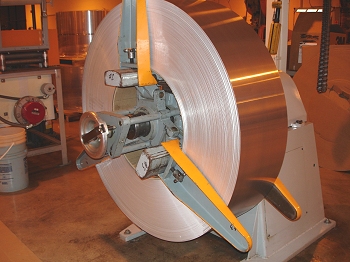 ---
The continuous sheet of 12"-wide aluminum travels into a heated wash tank that removes any impurities. The heat also helps the aluminum offer greater adhesion when the graphic sheeting is applied.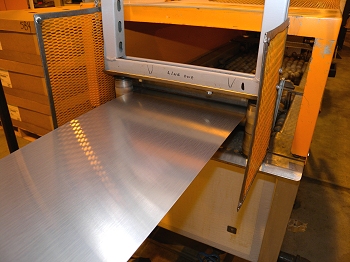 ---
The aluminum sheet passes through a machine called a "straightener" that removes any bumps or dents.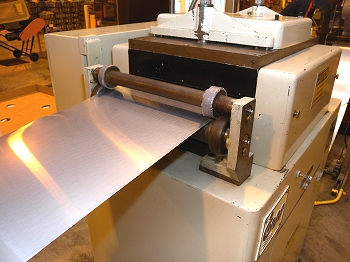 ---
A roll of graphic sheeting from a private vendor (currently 3M Corporation) is applied to the unpainted aluminum. The graphic sheeting comes from a roll 12" wide and 900 feet long, and has an adhesive backing that sticks to the aluminum.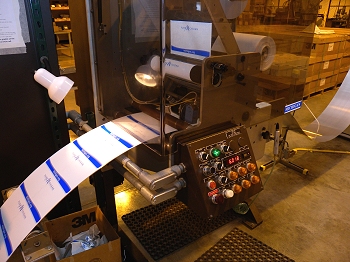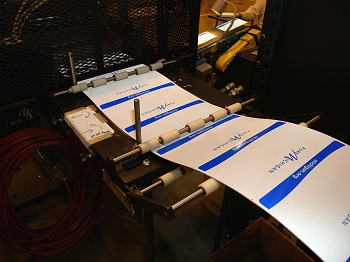 ---
The aluminum sheet travels into the "blanking press" that
Cuts the continuous sheet into 12"x6" flat plates
Rounds the four corners
Punches four mounting holes.
Excess pieces from this process are later sold to a vendor who then recycles the scrap into more coils of aluminum.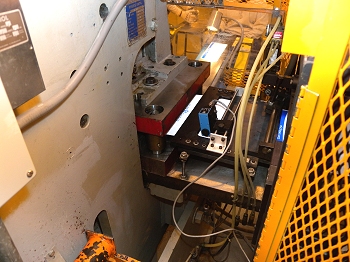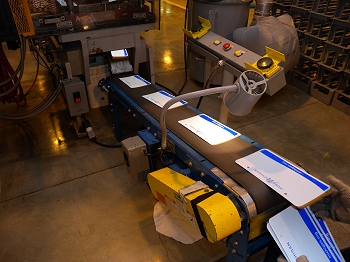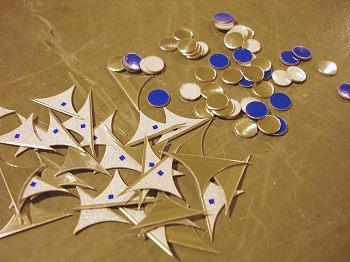 ---
Flat plates are later loaded manually into a hydraulic embossing press. An inmate uses individual steel dies to emboss the correct alpha/numeric image into each flat plate. An experienced inmate can stamp about 20 standard-issue plates per minute... yes, per MINUTE! It's a very impressive skill that requires full attention and a good measure of dexterity.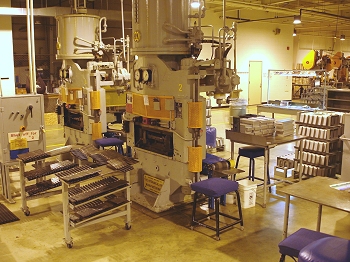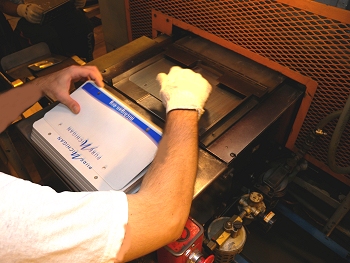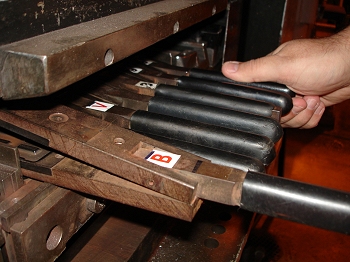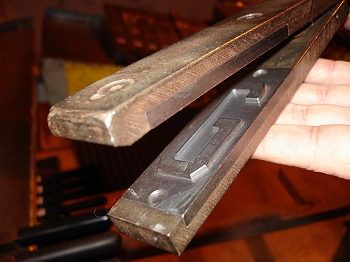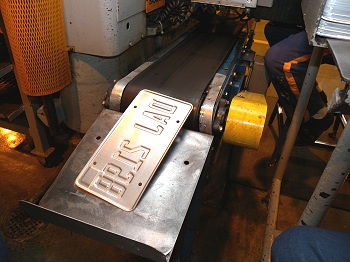 ---
After leaving the hydraulic press, embossed plates are delivered to the "inking station" where a uniform coat of ink is rolled onto the raised surfaces.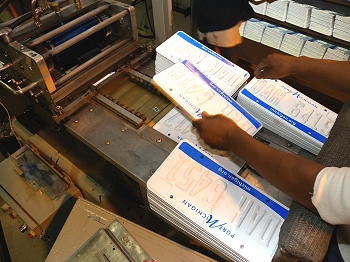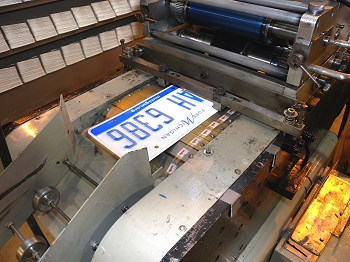 ---
Inked plates are placed on moving racks that travel through an oven heated to 250ºF. Each rack can hold up to 60 plates. When they emerge 45 minutes later, the ink and adhesive graphic sheeting are permanently bonded to the plates.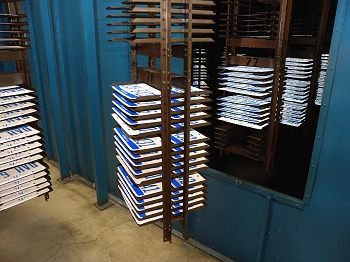 ---
An inmate inspects each plate for quality, and assures the plate accurately matches the computer order from the Michigan Department of State or other customer. If a flaw, error or other imperfection is detected anywhere along the manufacturing route, the plate is shredded and a replacement plate is made.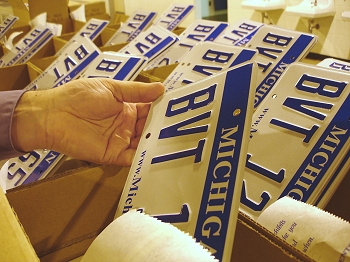 ---
The finished plate is placed in a special Department of State information bag or is shrink-wrapped, then boxed for shipment.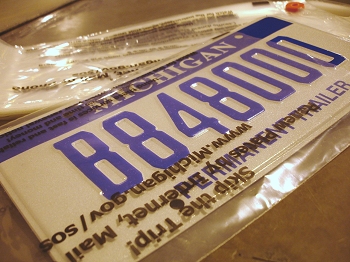 ---
Boxes of finished plates are inventoried, then held in an adjacent warehouse until a secure truck-trailer arrives for pick-up. Even the cardboard boxes and wooden pallets are made by inmates at other Michigan prisons.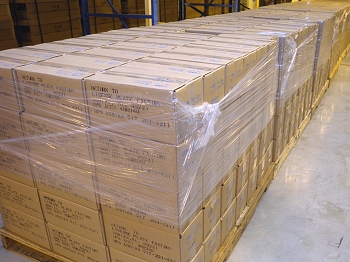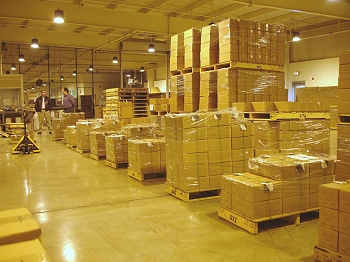 ---
Stacks of specialty plates await packaging and shipping.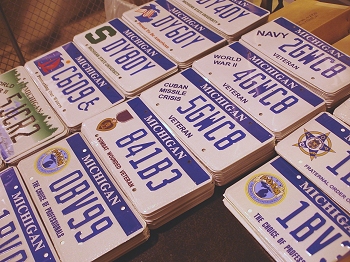 ---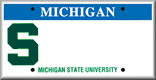 Some specialty plates, like the university fundraiser plate for Michigan State University (the top-selling specialty plate in Michigan), are made by silk-screening a logo onto a flat plate. The plate is later embossed, inked and dried like other plates. Specialty plates can also carry a personalized message.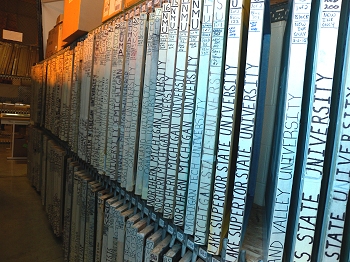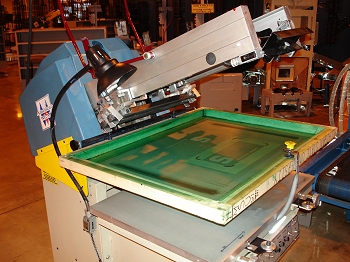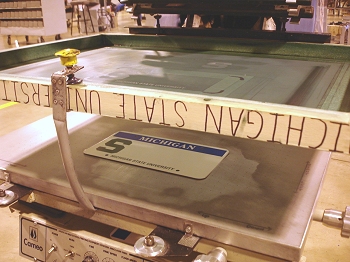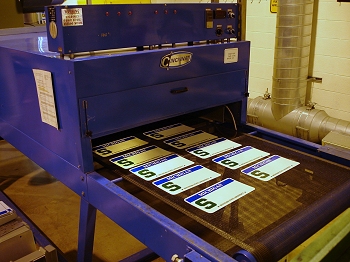 ---
Personalized license plates carry a message created by the vehicle owner. Some owners get rather creative in their choice of messages. Vehicle owners can use the Department of State "Plate It Your Way" service to see if their choice of personalized message is available.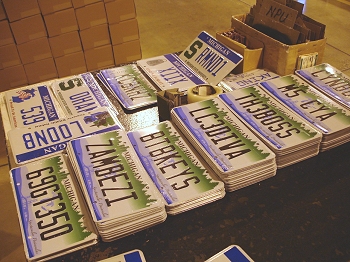 ---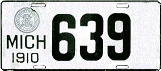 The wall above the factory offices is decorated with a sample of each type of plate ever made by Michigan inmates. Samples date back to 1910.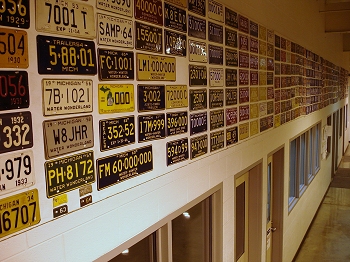 ---
Inmates at the Gus Harrison Facility Correctional Facility also make plates for
Horse-drawn carriages on Mackinac Island
Vehicles on Indian reservations
Certification plates for elevator cars
Vendor permits
Taxi cab registrations
and more.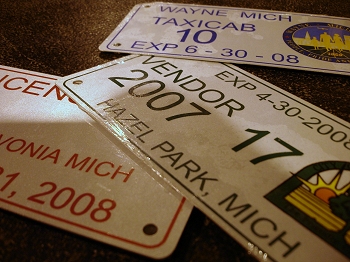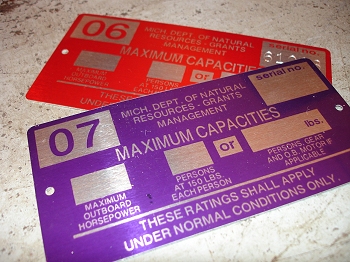 ---
Superintendent Will Rondeau and his staff (Pete Ballmann, Jim Brockway, Les Janish, and Jeff Lake) supervise 130 inmates during two four-hour shifts at the License Plate Factory.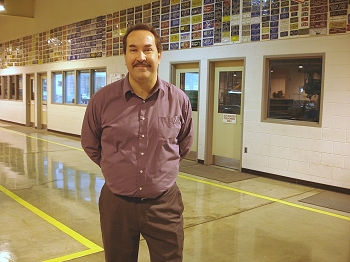 ---
Booster Plates for YOUR Organization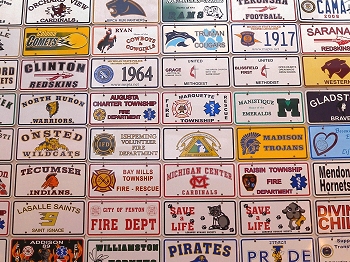 The license plate factory now makes Booster Plates for schools, fire departments, churches, and other nonprofit organizations... a great fundraising idea! For information about how YOUR nonprofit organization can have its own Booster Plate, contact Michigan State Industries or phone 517-373-4277.